10 Days in Spain + Portugal
Keeping all of the disclaimers from this post in mind, we had the best time traveling abroad with our pals, the Sturdivants. It was definitely a whirlwind (we packed in A LOT of adventures) but we were able to see almost everything on our list!
This is our second year in a row to visit Europe (see posts from last year: London, Ireland, and Italy) and people always ask how we find the time/money/energy to take a week and a half adventure with friends. There are definitely some tips I can give you on ways to save money, but it really just comes down to actually doing it. Mark the calendars, book the flights, reserve the rooms, do the research, save the money, pack the bags. Traveling is hardly ever convenient, but it is always worth it.
Okay, I am getting off my soapbox. Here are our practical travel tips:
-Travel Hacking: It sounds illegal, but it's not. Basically it's about using the right credit cards to maximize your airline miles (Thankfully, Kevin is a pro at this). If you plan far enough in advance, you can rack up enough points to pay for your flights. Resource of choice: The Points Guy
-Airbnb: We exclusively use airbnb when traveling and have only had one bad experience. Not only are the prices way better than hotels, but you also feel more immersed in the culture and receive insider tips on the city from your host! When booking, make sure you reserve the entire place (not just a room) and try to book with the Super Hosts for the best quality experience.
-Travel during the off-season (if you can): shorter lines and lower prices? Yes, please.
-Do the research: I'm not going to lie-- this takes time. But if you do the research in advance, you can find the best ticket prices/transportation rates/places to stay AND you can maximize your time when you are actually there. We had a google doc of our trip itinerary, and I can't tell you how many times we needed it throughout the trip.
-Pack light: Pack everything in a carry-on. When jumping in and out of cities and parking far away from your hotel/Airbnb- you do not want to be carrying large suitcases (nor will you be able to fit everything in your rental car). We all packed carry-ons and were so glad we did!
Since this may be the longest post in the history of posts, here is a short summary of each city we visited if you don't have time to read my ridiculous novel below.
Madrid is a fun, busy city with lots of culture and flower shops and the most beautiful park.
Córdoba has bucketfuls of charm, quirky bachelorette parties (?), flower-lined patios, and color at every turn.
Granada is full of little white houses stacked on one another, bands of Spanish hippies, fascinating histories, and charming narrow streets.
Málaga is very clean, a little ritzy, has lots of fresh seafood and is not your typical beach town. It's easy to become a believer of the city after just one visit.
Ronda is adorable and enchanting and has the most stunning scenery. If I could only go back to one place from the trip, it would be Ronda.
Seville is a big city with loads of tradition and beautiful architecture and endless activities. This city has plenty of opportunities for adventures at bull fights, soccer games, and historic landmarks.
Lisbon has the prettiest tiled buildings, rows of red rooftops, and is delightfully similar to San Francisco. Whenever we told people we were going to Lisbon, they would respond "Aww, Lisbon!" and now we know why everyone falls in love with this unique city.
Keep reading for photos and details of our trip (sections divided by each city)...
We landed in Madrid, grabbed coffee and croissants, and hit the ground running! Luckily you can basically walk anywhere in Madrid, so we wandered through Plaza Major and Puerta del Sol and made our way to Mercado de San Miguel. The market was filled with rows of various stands carrying fresh food and drinks and ice cream; we all loved the market and ate some of the best paella (a rice dish typically with chicken or seafood) of the whole trip from a little stand right inside. Our next stop was the Royal Palace of Madrid and the gardens, which were both beautiful. Brittany and I took lots of pictures while the boys goofed off (typical), then we headed back to the airbnb for an afternoon siesta. With our second wave of energy, we walked to Retiro Park and enjoyed our first (of many) churros con chocolate. Y'all, they do not mess around with the giant cup of chocolate. Apparently the locals actually drink the chocolate straight out of the cup after they finish with the churros. I am forever amazed and impressed by this one fact alone.
Retiro Park was stunning (especially at sunset) and probably my favorite stop in all of Madrid. We tried to check out the Prado that evening since the last hour is free, but the lines were ridiculously long so we ended up paying the entrance fee the next day. We had been told to make this art museum a priority, and I'm so glad we did! We all remembered learning about some of the more famous paintings and loved looking through the different artists' works. After the Prado, we met up with Robert and Brittney's friend (who lives in Madrid) and she showed us an awesome rooftop view of the city at Círculo de Bellas Artes, then we grabbed more churros & chocolate at Chocolatería San Ginés and wandered into El Viajero for dinner (If you can't tell, we ate. A LOT.)
To Do: Plaza Major, Puerta de Sol, Royal Palace of Madrid (& gardens), Retiro Park, Museo Nacional Del Prado, Círculo de Bella's Artes (rooftop views)
To Eat: La Rollerie (brunch), Chocolatería San Ginés (churros), Mercado de San Miguel (snacks), Taberna La Concha (tapas), El Viajero (dinner on the roof)
To Stay: Click here for Airbnb listing.
We woke up early and took the train to Córdoba, the most charming and colorful town we visited. After picking up our rental car and stopping for toast and coffee, we headed to the Alcázar de los Reyes Cristianos and wandered around the beautiful gardens. It was easy to fall in love with Córdoba right away, especially after we walked through La Judería (the city's oldest Jewish neighborhood)-- each street was lined with colorful flower pots and filled with admirers of the city. We were also able to see the iconic architecture of the Mezquita, which brought back lots of memories from high school Spanish history lessons. Unfortunately we were only in the city for one night, so we took the rest of the day slowly (in true Spanish fashion) and tried to soak up the charm as much as possible!
To Do: Alcázar de los Reyes Cristianos, Patios de Córdoba (La Judería had the best patios we saw), Mezquita Cathedral de Córdoba
To Eat: Roma MMXVI (breakfast), restaurant in La Judería (lunch), Restaurante La Tagliatella (dinner), Café & Té (breakfast)
To Stay: Click here for Airbnb listing.
To be honest, Granada and this team of travelers did not get off to a great start. Let's just say this is not necessarily the city you want to drive a rental car through (see the photo where Kevin is stretching out his arms? We may or may not have gotten stuck in that alleyway and we may or may not have gotten a standing ovation from a gathering crowd of people when we finally made it through...) We also quickly found out that tickets to the Alhambra were sold out and needed to be purchased months in advance (we had no clue), so we frantically searched tour shops for guided tour tickets instead. We got super lucky and found the last four guided tour tickets of the Alhambra for early Tuesday morning (our last day in Granada), then celebrated with ice cream and dinner at a pretty viewpoint called Mirador San Nicolás.
We didn't really have anything planned for Monday since we set aside that day for the Alhambra, so we had time to explore at a slower pace. We saw the incredible cathedral, the bath houses, and stopped frequently for food (of course). We stumbled upon a hole-in-the-wall pizza place that was extra delicious, and that night we went to Jardines de Zoraya for dinner and a flamenco show. Flamenco is the traditional Spanish dancing and a must-see when in Spain! The next morning we left for the Alhambra bright and early. There is a lot of hype around this castle and for good reason; the Alhambra definitely rivals the Vatican in having the most impressive rooms I've ever seen. We were also really glad we got the guided tour tickets-- we were able to hear more of the Alhambra's history and the tales about the people who inhabited the palaces. If you visit the Alhambra, don't skip over the GeneraLife Gardens. They are amazing and worth the extra euros. We definitely left Granada on a much better foot than when we started!
To Do: Paseo de los Tristes, Mirador San Nicolás (great views), Catedral de Granada, El Bañuelo, Dobla de Oro, Jardines de Zoraya (flamenco show), Alhambra (Both palaces & GeneraLife Gardens)
Tips on visiting the Alhambra: If you don't have time to buy tickets before you get to Granada, go to Granada City Experience (in the City Center) for guided tour tickets- they don't sell tickets online so they are your best bet for getting them in person. The Alhambra ticket offices do reserve some tickets for same-day sales, but people start lining up for those as early as THREE (!!!) o'clock in the morning. You can walk to the Alhambra from the city, but I recommend getting a taxi- it is a pretty steep walk up the hill and you will do a ton of walking once you are inside. After getting your ticket, you will need to hang onto it because you have to show it at all of the palace entrances and the entrance to the gardens.
To Eat: Restaurants outside on Paseo de los Tristes (there are about 5 in a row that all serve similar food and have a great atmosphere), Helados San Nicolas (ice cream), Ristorante El Balcón de San Nicolás (dinner), Cafetería Lisboa (brunch), Bar Miguel Bajo (lunch/pizza), Jardines de Zoraya (tapas/dinner)
To Stay: Albaicín neighborhood
PART FOUR: Málaga & Ronda
We drove to Málaga and immediately realized that it was a much bigger, busier city than we expected (we felt this way almost everywhere we went). Our Airbnb host spoke great English and was super helpful; he walked us around the city and took us to a (VERY) fresh seafood market. Then we headed to a delicious ice cream shop before making our way to the beach. The walk along the water was beautiful, so we strolled slowly and stopped to take in the unique & modern architecture. That night we headed to a cool spot for rooftop views of the city to watch the sunset and then walked to a restaurant our host recommended called El Pimpi for tapas and dessert.
We left the next morning to drive to Seville, but made a stop at a cute and crazy-beautiful town called Ronda. Ronda is one of the many pueblos blancos (little white towns) which are scattered throughout Spain. We were only able to stay a couple of hours, so we explored the amazing views at the Puente Nuevo Bridge quickly and walked through several of the darling streets. We all wished we had more time in Ronda and Málaga, but we were also excited because we had lots of fun plans in Seville!
To Do (Málaga): Beach & walk along the water, La Terrazzo de la Alcazaba (rooftop views), shopping in the city
To Eat (Málaga): Mercado Central de Atarazanas (fresh seafood market), El Pimpi (dinner), Casa Mira (ice cream), Café Central (breakfast)
To Stay (Málaga): Click here for Airbnb listing.
To Do (Ronda): Puente Nuevo bridge & viewpoints at surrounding parks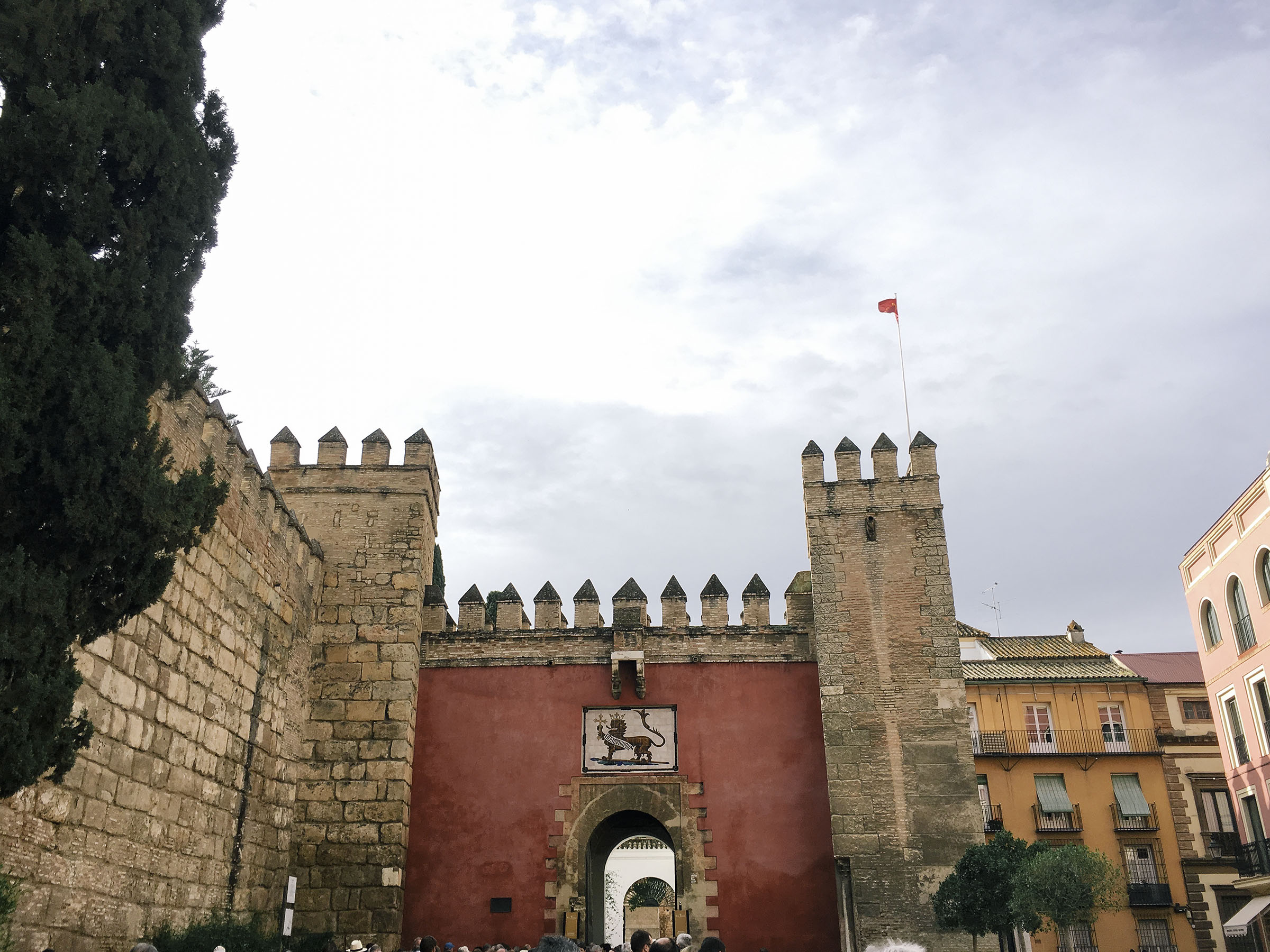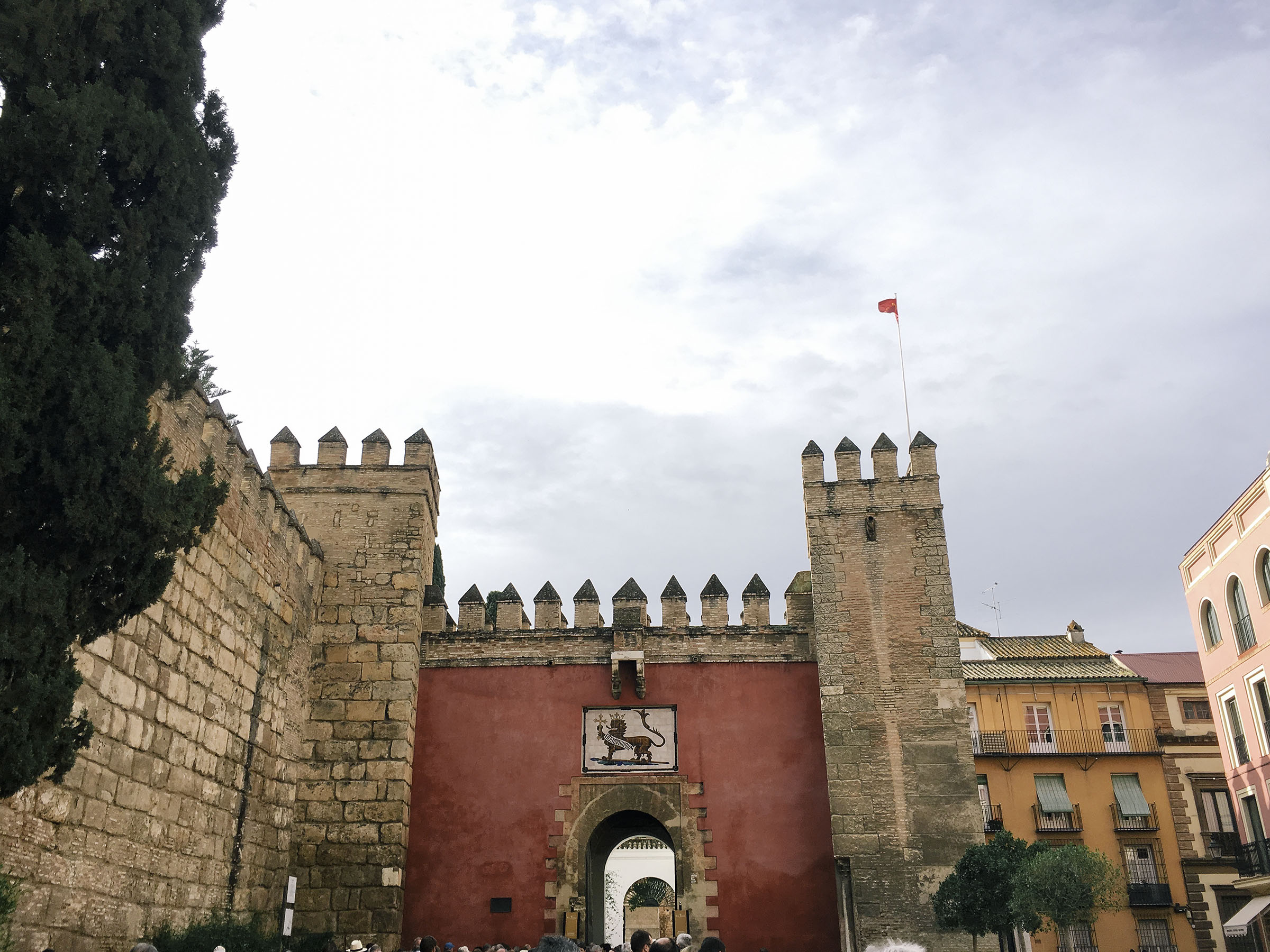 Arriving in Seville right on time, we stopped and bought tickets for that night's bull fight and then headed to our Airbnb, where we had an amazing rooftop all to ourselves. After enjoying more ice cream at Helados Rayas, we stopped in a few of the hat shops and then walked to the bull ring. Brittany and I were very skeptical about watching the bull fight, but the boys were ready/excited. I may have closed my eyes most of the fight (the poor bulls!), but it was still interesting to see how all of the locals dress up for the event and cheer for the different moves made by the matadors. That night we ate an amazing tapas dinner at Casa Morales and headed back to our little rooftop to take in the views of the city at night.
The next morning we woke up early and waited in the long lines for the Alcazar, which was insanely gorgeous at every turn. We could've spent all day wandering through the buildings and gardens, but instead walked to the Cathedral de Sevilla. We saw the tomb of Christopher Columbus and made the trek to the top of the clock tower for more beautiful views of the city. After the cathedral, we stopped at Bar Alfalfa to refuel on tapas and paella. Kevin was adamant about renting a bike, so we walked to a little bike rental shop after lunch so he could explore the city on wheels for a little while. We had tickets for the Sevilla FC game that night, so we checked off the rest of the sites on our list: Metropol Parasol (aka the mushrooms) and Plaza de España. Unfortunately it started to rain, so we had a little trouble catching a cab to the game (they don't have Uber in Seville) but thankfully our seats were under the only covered section in the stadium! The game was one of the best experiences of the whole trip; we loved the atmosphere, chants, and cheering on the win of the home team. We were all singing the Seville cheer (however poorly) the rest of the night while we walked along the Triana bridge and ate more tapas.
Our last morning in Seville we did a lot of walking in the rain, but it was worth it because we lucked out on a table at Bar El Comercio and kicked off Brittany's birthday with the most delicious breakfast churros and café con leche before dropping off our rental car and flying to Lisbon for our last full day!
To Do: Plaza de toros de la Real Maestranza de Caballería de Sevilla (Bull fight), The Real Alcazar, Cathedral de Sevilla, Plaza de España, Metropol Parasol, Ramon Sanchez-Pizjuan Stadium (soccer game), Triana Bridge
To Eat: Helados Rayas (ice cream), Casa Morales (dinner/tapas), Bar Alfalfa (lunch/paella), Bar El Comercio (breakfast/churros)
To Stay: Click here for Airbnb listing.
PART SIX: Lisbon, Portugal
Last but definitely not least: Lisbon greeted us with lots of sunshine and a friendly Uber driver, who told us all of the best places to see in our short time there. We dropped off our bags at our cute little blue & white apartment and immediately started exploring. We were constantly "oohing" and "ahhing" over the buildings covered in colorful tiles while we walked through the Chiado district and toasted Brittany's birthday with gelato at Santini. Then we wandered to Miradouro de Santa Catarina for a pretty view over the city while the sun set. We all immediately recognized the city's many similarities to San Francisco with the pastel buildings, trolley system, and look-a-like bridge. For dinner, we explored and ate yummy food at Time Out Market. Chefs from all over the city contribute to the different restaurants and we all loved the different meals we had there.
The next morning we had a big breakfast and tried some of Portugal's famous pastries (pastel de nata) before making the steep hike to Castel de S. Jorge. Right off the bat, the castle greets you with the best views of the city and lots of bold peacocks. Although we were pretty exhausted at this point in the trip, we still loved seeing all of the views from the castle and ended up returning to the shops beside the castle for the prettiest hand-painted blue and white pottery. After the castle, we walked through the huge outdoor flea market, Feira da Ladra (only open on Saturdays). It was so fun to look through all of the stands, and I even scored some vintage Portuguese stamps. After successfully wandering through the market, we had a long and leisurely lunch at Barrio Avillez and then pastries and coffee at Confeitaria Nacional, which were both delicious. All of us were pretty low on euros since it was our last day, but we combined our remaining dollars for a short ride through the city in a Tok-Tok (kind of like big golf carts). Then we grabbed our bags and flew back to Madrid late that night before our long flight home the next morning! We left behind Portugal and Spain feeling exhausted, accomplished, and full of churros.
To Do: Miradouro de Santa Catarina (there are lots of viewpoints throughout Lisbon), Castel de S. Jorge, Feira de Ladra, Chiado neighborhood, Bairro Alto neighborhood, ride on Tok-Tok
To Eat: Santini (gelato), Time Out Market (dinner), Augusto's (breakfast), Barrio Avillez (lunch/one of our favorite meals from the trip!), Confeitaria Nacional (pastries/coffee)
To Stay: Click here for Airbnb listing.
THINGS WE LEARNED
Language: There aren't many English speakers in Southern Spain, but almost everyone speaks English in Lisbon, Portugal. We were very thankful that all of us had taken some Spanish classes in the past. *I'm not naming names (cough: boys), but speaking louder and slower English is not helpful when communicating with a non-English speaker. Over-dramatic hand gestures ARE helpful when communicating.
Food: Two words: churros & chocolate. Eat whenever available. Other foods to try: papas bravas, paella, croquettes, all. the. tapas.
Dining: Prepare to dine very slowly in Spain. No one is in a hurry and the waiters will never bring you a bill without being asked. To receive the check, you must get their attention and ask for it (la cuenta). Restaurants will almost always put bread on the table without asking, but they will also (almost) always charge you for it. Europe doesn't really do American coffee- the closest you can get is an americano (basically watered down espresso), but I usually opted for café con leche (latte).
Driving: Just because you see a van go down a very narrow road does not mean you should follow them. Sometimes "roads" are more like alleys. You may also be charged for a speeding ticket via traffic cam for going 10 km (= 6 miles) over the speed limit in the middle of nowhere. When in doubt, drive slowly.
Random: Spanish soccer chants are catchy. Bull fights are gory. Comfortable shoes are necessary. Dealing with OCD Airbnb hosts will end badly. Rooftops are always a good idea.